A garter is something that most will never come into contact with unless you are getting married or tasked with buying a garter for a bride. This is true because garters are no longer worn in everyday life but that doesn't stop curious questions regarding the difference between a garter and a garter belt. Many struggle with understanding what makes each unique and which you need for your wedding day. So, the team at Heirloom Bridal Co. decided to put this mystery to rest and explain how a garter and garter belt differ.
There is truly a right place and setting for a garter and for a garter belt but generally they are not the same event. Before we get to the differences let's start with the history of garters and why we use them.
The History Of The Wedding Garter
As history goes the wedding garter originated in Europe during the 14th century and quite possibly is one of the oldest wedding traditions we know. It was a simple piece of fabric that the bride wore to hold up her stockings. Some stories suggest that guests at weddings in parts of Europe believed that having a piece of the bride's clothing would bring them good luck.
Others have a spicier explanation. It is believed that the witnesses, or guests as we refer to them today, would accompany the bride and groom to the honeymoon suite to ensure consummation. Sounds to close for comfort for us, but at that time they believed that they needed to make sure the bride and groom arrived at their bedroom without harm and then wish them well before leaving them alone to consummate the marriage. These guests would take a piece of the bride's dress to prove that they were in fact safely in their room to do what honeymooners do.
Now imagine that! On the most glorious day in your life, feeling your most beautiful and wearing the most beloved piece of clothing you will ever wear only to have it ripped into pieces at the end of the night! Of course, the brides did not enjoy this act and began to throw different items, including the garter to the guests.
And just like that, one of the oldest wedding traditions was born.
While it is hard to know exactly how and why this tradition was created, we do know that the modern-day wedding garter was designed to eliminate the destruction of the bride's wedding dress while still appeasing the rowdy (and sometimes intoxicated) guests.
What Is The Difference Between A Garter & A Garter Belt?
What Is A Garter Belt?
A garter belt is an undergarment that is made out of fabric and fits around your waist. It features 4-6 ribbons that dangle below the belt and is worn to keep stockings from slipping. Small plastic clips are usually attached to the ribbons and clip onto your thigh-high stockings to keep them from falling down. Garter belts were part of the daily attire for women prior to the invention of elastic and panty hose but today are generally worn only on festive occasions.
Women today will wear garter belts as lingerie or special occasions such as honeymoons, a hot date, costumes and boudoir photo shoots. They are definitely known as the sexier of the two garter types and depending which fabric is used to make them a garter belt can even provide a slimming effect.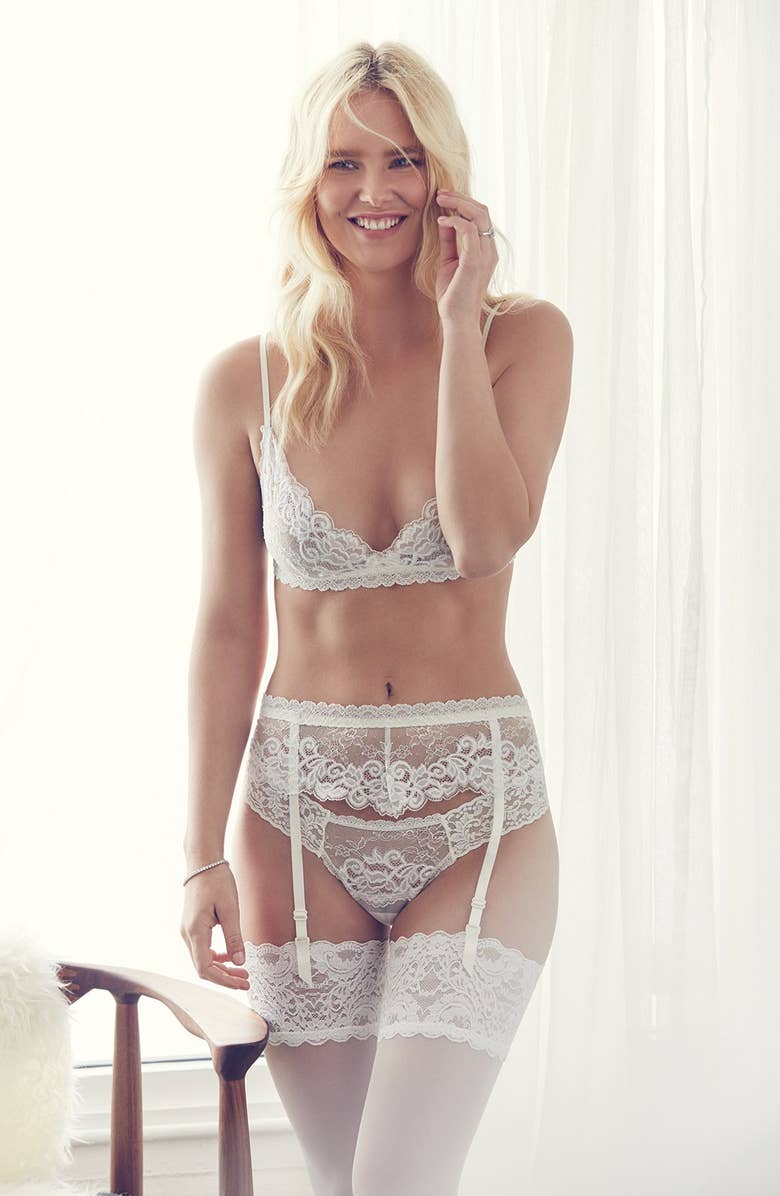 PHOTO CREDIT: NORDSTROM
What Is A Garter?
A garter is a type of fashion accessory that can be worn by both men and women. You probably thought they were just for women but in many cases, especially in ancient times, garters were worn by both. The original design was a piece of narrow fabric that was tied to hold up stockings or socks which is why is was acceptable for both men and women.
Today, garters are generally worn by brides on their wedding day and are more decorative and pretty than in ancient times. Designers craft beautiful garters from delicate materials such as lace or satin which makes them perfect for your wedding day. You will even find gorgeous wedding garters adorned with rhinestone appliques, crystals or pearls and always elastic to keep it in place.
Worn around the bride's thigh, a wedding garter is a staple at most weddings. Heirloom Bridal Co. offers a great selection of simple and ornate wedding garters so no matter what style you are looking for we are sure to have the best selection.
Here are a few of our favorite wedding garters. Most are sold in sets, one to throw at the reception and one to save as a keepsake. Find the perfect one for your wedding today! You can read more about garters and the tradition here
A Simple Lace Wedding Garter
A romantic wedding garter featuring re-embroidered alencon lace. This two-garter set is one of our most popular. Make sure to place your order early to allow time to arrive before your wedding day.
Blue Crystal Wedding Garter
This stunning wedding garter features the most exquisite clear crystals and large blue stones. It is perfect for a bride that is wanting a wedding garter that is more ornate. This stunning garter is one you probably won't want to throw this one at the reception.
Beautiful Lace Garter With Rose Gold Rhinestone Applique
Rose Gold has been so popular over the past several years that we just had to add it to one of our lace garters. Our design team worked together to create the most beautiful wedding garter set that is perfect for any bride. Keep the one with the large applique and toss the one with the smaller applique.
Want to see more wedding garter designs? Shop Now!
The wedding garter may be one of the oldest traditions but we have to say that we are so happy that it has stood the test to time. Whether you want your wedding garter to be your something blue, need one that is bedazzled or just a simple and pretty lace wedding garter the best selection (and prices) can be found right here.